Biografien.
Cappella Gabetta
Andres Gabetta,
concertmaster and conductor
Andres Gabetta
The Cappella Gabetta has enabled Sol Gabetta to make one of her musical dreams come true: she, her brother – concertmaster Andrés Gabetta – and a hand-picked team of highly qualified musicians from the same musical background devise repertoires of baroque and early classical music
...
which they perform on original instruments at concerts and in the studio.
The ensemble was established in December 2010, and has already made very successful guest appearances in Amsterdam (Concertgebouw Amsterdam), Paris (Salle Gaveau, Théâtre des Champs Elysées ), Hamburg (Musikhalle), Wien (Theater an der Wien), Baden Baden (Festspielhaus), Munich (Prinzregententheater), Zurich (Tonhalle), Berlin (Philharmonie) and elsewhere, as well as at illustrious festivals such as the Bremen Music Festival, Menuhin Festival Gstaad, the Schleswig Holstein Festival, the Lyon Baroque Music Festival, Rheingau Music Festival and others.
Since 2011, the Cappella Gabetta has made two recordings for Sony Music; one of its Italian baroque repertoire featuring Sol Gabetta (which includes several world premiere recordings), and another on which the mezzo-soprano Vivica Genaux performs music by Handel and Hasse. The plaudits received by the orchestra for these CDs have included being selected as the 'Recording of the Month' by Gramophone magazine, and as the 'CD of the week' on the NDR-Kultur, BR- Klassik and RBB (Berlin) radio stations. Furthermore, the CD "Tromba Veneziana" with the trumpet virtuoso Gàbor Boldoczki was released with Sony Music in 2013. The cooperation with Simone Kermes and Vivica Genaux led to the release of the CD "Rival Queens" and with "Music at the Habsburg Court" the Cappella Gabetta brought out a collection of compositions with reference to the Habsburg court in 2016 withAndrés Gabetta as soloist and concert master.
The Cappella Gabetta has, to an increasing extent, been inviting other distinguished instrumentalists and vocalists to participate in joint concert and recording projects in the area of baroque and early classical music, including the soprano Nuria Rial, the trumpet virtuoso Gabor Boldoczki, the violinist Giuliano Carmignola, the baroque recorder player Maurice Steger and the baroque cellist Christophe Coin.
The future planning of Cappella Gabetta contains tours with the countertenors Valer Sabadus and Franco Fagioli, the mandolin player AviAvital, and the sopranists Sunhae Im und Julia Lezhneva. Concertmaster Andrés Gabetta is recognised as a brilliant baroque violinist. He is one of the closest musical associates of the prominent cellist and conductor Christoph Coin, in whose orchestra, the Orchestre Baroque de Limoges, Gabetta is the concertmaster. He also appears regularly as concertmaster of the kammerorchesterbasel. He was nominated for a Grammy in 2008 for his recording of Bach's Brandenburg Concertos (Naxos) featuring his own ensemble, the Swiss Baroque Soloists.
Sol Gabetta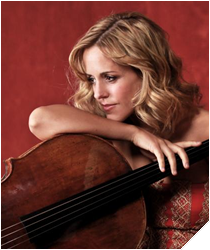 Sol Gabetta
Wherever Sol Gabetta – a Franco-Argentinean cellist of Russian extraction – performs, she impresses with her compelling interpretations, impassioned, physical and soulful style of playing, and charismatic, ebullient personality. The great flexibility of her style and repertoire is
...
one of her artistic calling cards. She is able to convey her musical language just as enthrallingly whether performing Shostakovich's challenging Cello Concerto No. 2 from 1969 or an early 18th century Vivaldi cello concerto on a baroque instrument. She plays in concerts with large symphony orchestras, in chamber orchestras and in baroque ensembles, but is also the creative force behind thrilling recitals accompanied by top-class pianists and chamber musicians. Her international career was launched in 2004, when she won the prestigious Crédit Suisse Young Artists Award, one of the most lucrative prizes to which young musicians can aspire. The prize-winners' concerts in the autumn of 2004 with the Vienna Philharmonic under the baton of Valery Gergiev opened many important doors for Sol Gabetta in the world of music.
The artist has already won three Echo Classic Prizes and one Gramophone Award for her discography, which now numbers eight CDs. Her broad musical spectrum is reflected in her recordings: from Vivaldi concertos on a baroque cello, to classical concertos by Haydn and Hofmann and the romantic masterpieces of Elgar, Saint-Saëns and Shostakovich.
She is particularly passionate about the projects she has launched on her own initiative: since June 2006 she has been organising the Solsberg Festival in her adopted Switzerland. She invites musicians from her inner circle to play at this festival, where she celebrates chamber music in all its various hues in the course of eight or ten concerts. The 'Cappella Gabetta' is another of her personal projects. This baroque orchestra went on tour with the cellist in July 2013 and will be on the road again in December with music by Vivaldi and his contemporaries, conducted by Sol Gabetta's brother, the violinist Andrés Gabetta, as concertmaster. As well as concerts by Vivaldi, the Cappella Gabetta has also recorded cello concertos by Giovanni Platti, a contemporary of Vivaldi who composed at the court in Würzburg.
Thanks to a generous private grant from the Rahn Cultural Fund, the artist is able to perform on a rare and valuable cello made by G.B. Guadagnini in 1759.